sugar and spice
NOTE:
This was actually written yesterday, but Blogger was being a little bitch, so I couldn't post it until now. Damn you, Blogger! I shake my fist in your general direction.
---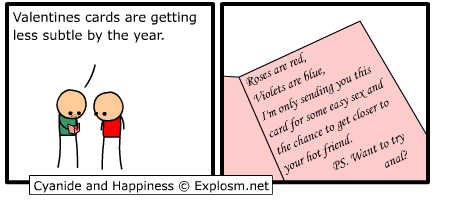 ---
R, my older brother, is going to be laid up for a few weeks following surgery to correct his breathing problems. This, and the unbearable frigidity of Minnesota in February, forced him to escape to milder climes…namely, California. I put in a vacation request, and we made plans to get together for a trip to Hearst Castle and anywhere else that struck our fancy along the way.
On Sunday afternoon, I bid G
au revoir
, and R and I took off in his rented Malibu. I love the conversations that pop up on long car trips, and we talked about everything from the philosophical to the scatological.
"Have you ever taken a crap that looked like Ernest Borgnine?" I reminisced.
"Jesus!" R sputtered.
"You took a crap that looked like
JESUS
?"
"No! God! I mean, gross! What's wrong with you?"
"Well, I'm just saying th---
OH MY GOD MADONNA INN EXIT NOW
!" I squealed.
For those of you who aren't familiar with the glory of the
Madonna Inn
, let me school you. It's an enormous hotel located in San Luis Obispo, and each room has a different theme. Most of them are
eye-bleedingly gauche
, but there are a few cool ones, like the
Caveman Room
. I've always wanted to stay there, but since that wasn't on the agenda for this particular trip, I figured I'd settle for dinner.
Our food wasn't anything all that exciting; really, how alluring can you make a grilled ham and cheese sandwich? I was grooving on the heavy glass goblets of water and the bowl filled with pink sugar, though.
"Would you care for dessert?" our waitress asked.
"Sure, I'll have the pink champagne cake," I said cheerfully. R ordered the toffee crunch cake, and after the waitress left, we discussed what we were going to do the next day. I was pointing at something in his guide book when two enormous plates were plunked down in front of us.
"Oh my god," I whispered reverently.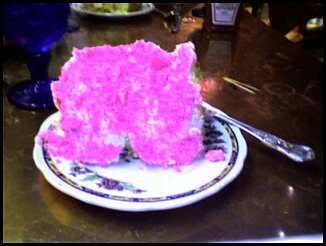 This was no ordinary slice of cake. This was a
SLAB
of cake. I shit you not, it had to be about six inches tall, and it was an alarmingly bright shade of pink.
It was beautiful.
It was also delicious---sort of like wedding cake---but I was unable to eat more than a third of it. I sadly trailed my fork through the fluorescently festive frosting until the waitress took it away.
R and I rolled ourselves back to the car and continued on our way. Upon arriving at our
hotel
, I took one look at the sign and wailed, "R, you booked us into a Best Western?"
"What's wrong with Best Western?"
"Well, K and I haven't exactly had the best of luck with them," I said.
"Why don't we see the room first before you freak out?" he rationally replied.
Fortunately, my fears were unfounded. Not only did we have a beautiful view of the ocean, but the room itself was quite nice. The beds were comfortable, the TV was large, and the minibar was well stocked and reasonably priced. We put our clothes away and then walked down to the beach, where we sat by the fire pit and watched the waves roll onto the shore.
On Monday morning, we got up, showered (separately, thank you), and went to the hotel restaurant for breakfast.
"Oh my god, R, look at this!" I squealed, jabbing my finger at the menu. "Bailey's French toast: two croissants dipped in a Bailey's and cinnamon custard batter. I am
SO THERE
."
"Good choice," the waitress commented when I placed my order.
I was trembling with anticipation. When the plate was set down in front of me, I fretted: would it be as good as it sounded, and looked, and smelled?
Yes.
Oh, sweet Christ, yes.
As I shoved forkful after forkful into my drooling maw, I made noises that would make a phone sex operator take notes. I followed this delectable treat with three sausage links and a Coke, burped (there was no one else around), and patted my swollen belly happily.
I've been to Hearst Castle several times, but it was still impressive. The tour guide mentioned that employees and their friends are allowed use of the Roman Pool once a year, and she was immediately swarmed by clamoring tourists begging to be her friends.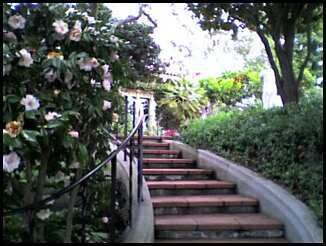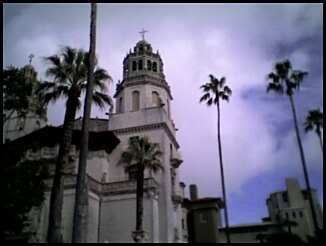 After the tour, R and I went to Piedras Blancas to look at the elephant seals, who were on land for mating season. They were enormous and ugly and made horrific grunting noises, so of course I loved them. We couldn't get very close to them, but according to the sign, they're very aggressive and their poop carries a nasty virus, so that wasn't much of a loss.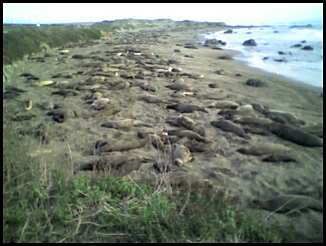 We finished off the day with dinner, and then we headed back to the hotel and called it an early night.
Yesterday, we went to Cambria to visit Moonstone Beach, which was amazing. The beach is composed mostly of rocks, including jade, agate, and quartz. I picked up several beautiful rocks and wondered if I could borrow a rock tumbler from someone. We also visited Morro Bay, Buellton (made famous by
Sideways
), and Solvang, the kitschy-cute Danish-themed town.
We got back to my neck of the woods around 9PM, and R dropped me off at home on the way to his hotel. He's visiting college friends today, and he heads back to Minnesota tomorrow, but I'll be meeting him for one last breakfast before he returns to snow and slush.
---
In case you haven't noticed the ads and the store aisles that look like Cupid projectile vomited hearts and lace all over the place, it's Valentine's Day! I was at the grocery store earlier, and as I gazed at the Ben & Jerry's selection---G's right, Dublin Mudslide sounds more like a nasty sex act than an ice cream flavor---I remembered those lonely days when I either didn't have a boyfriend or I would have been better off
NOT
having a boyfriend, and I smiled at my good fortune.
Then "All Out of Love" by Air Supply came over the loudspeaker.
Someone at Albertson's has a sick sense of humor, methinks.