4/2 part 2: hot cherry blossom action!
[Transcribed from trip journal. Mouse over pictures for relevant comments and/or descriptions.]
After I met up with the group back at Tokyo Big Sight, several people took off to go shopping and/or drinking, and the rest of us took the train to Ueno Park to see the cherry blossoms. We had been told that they were blooming late this year due to an unusually rainy spring, and not all of the trees were in flower, but it was still absolutely gorgeous.
Cherry blossom viewing is a
huge
deal in Japan. Basically, people sit under the trees, ostensibly to ponder the fleeting beauty of the fragile blooms, but in reality to eat massive amounts of food, be loud and boisterous, and get utterly wasted.
Only a few seconds after I snapped the above picture, an elderly Japanese man staggered up to us and began jabbering excitedly, pointing at our tote bags from the Tokyo Anime Fair. I only caught the word
otaku
, which basically means fanboy/fangirl, and laughed. Shimako told us he was complimenting us on our bags and telling us how much he loves "Naruto", which is a wildly popular ninja series. Eventually, he tottered off and we continued walking.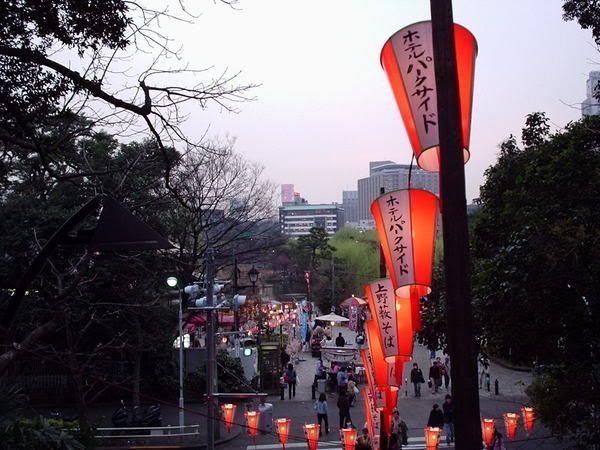 A particularly rowdy group of guys caught our attention, so we stopped to check out what they were doing.
One of them was wearing a blue superhero spandex outfit, and he pulled up the bottom half of his mask to chug down a can of beer with astounding speed. Another had on a tutu held up by suspenders, with a swan's head peeking out from underneath like an ornithological penis. (And oh, the sadness when my picture of him didn't come out…) As they continued to yell and drink, their friends began chanting, and Isaac started doing a little dance. One of them cried "
Mitte, mitte!
" (Look, look!) and Swanboy yelled (in English) "My brotha!" and beckoned Isaac to come forward. Isaac dragged Joe with him, and they both chugged cans of beer to the delight of the crowd.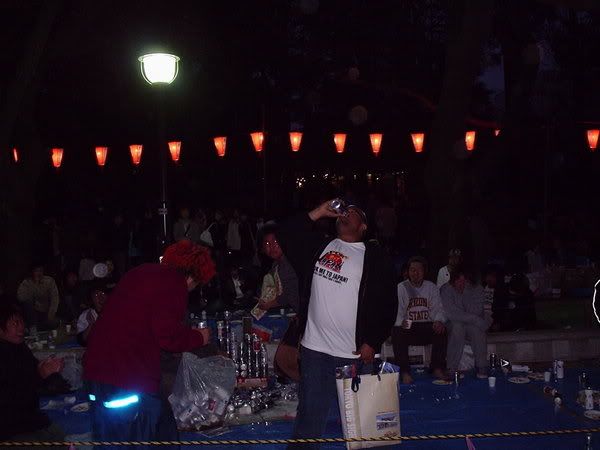 We continued walking down the path, admiring the various costumes (an angel, a woman dressed as a chicken who was spinning around madly, a panda, a guy with a huge turd on top of his head that said in English, when we laughed, "I'm shithead!") and how red Japanese people get when they're drunk. A man who had passed out was being carried away on a stretcher by six Japanese police, and he must have weighed all of 110 pounds; if one of our group had passed out, they'd need the whole Japanese police force!
There were lots of food stalls lining the path, and I stopped at one to buy a hot dog on a stick. (I swear, the Japanese obsession with foods on sticks is rivaled only by that of Minnesotans…) Unfortunately, it was covered with the hottest, nastiest, most nail-polish-remover-smelling mustard I've ever had the misfortune to taste, so I quickly tossed it in the nearest trash can and bought some Hello Kitty and Doraemon (famous cartoon robot cat) cookies instead.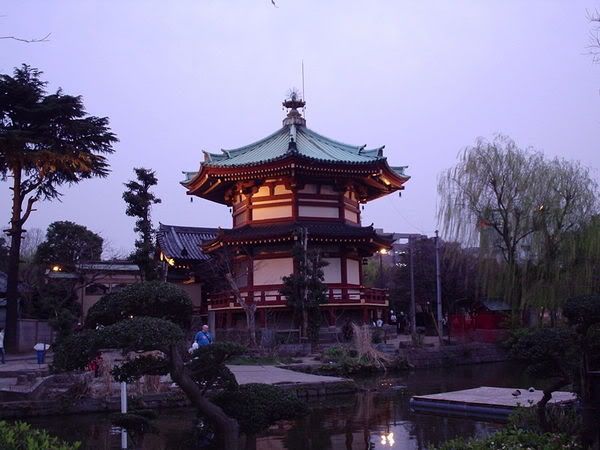 This pagoda waited at the end of the sidewalk, and by then, it was time to return to the hotel. As I walked back towards the meeting place, I reflected on the beauty of Japan and how very much I did not want to leave.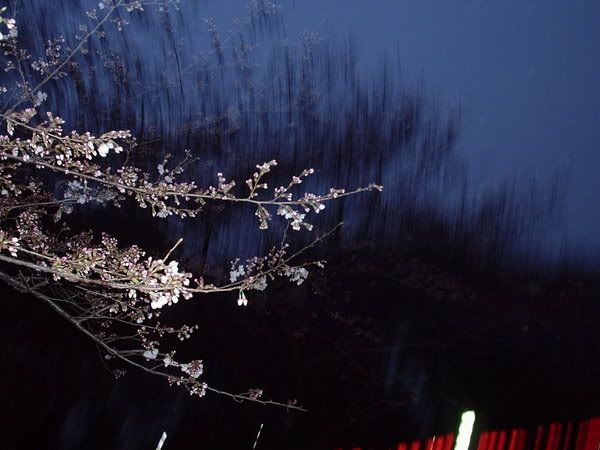 Back at the hotel, I took a shower and then lay in bed and watched an
enka
(melancholy Japanese ballads) concert on TV, which contributed to my wistful mood. I finally turned it off and fell asleep, dreaming of cherry blossom petals drifting about me like fragrant snow.