England part 1: mind the gap, please
"Ah, I could get used to this," I said to G, lazily stretching my arms over my head. "Virgin Atlantic rules!"
(Please keep the previous comment in mind, as it will wind up being excruciatingly ironic at the end of my chronicles.)
And lo, for that leg of the journey at least, it did. G and I had a row to ourselves, the crew passed out free amenity bags, there were water dispensers by the bathrooms (handy for staving off dehydration during such a long flight), and best of all, we had personal inflight entertainment systems that included a huge selection of uncensored movies and TV shows. We weren't able to take full advantage of them, though, as we needed to catch some Z's. We stayed awake long enough to have dinner, which was absolutely foul (braised beef that looked and smelled like cat food, though cat food probably tastes much better), and then we went to sleep. Neither one of us was all that tired, but we had to sleep so we would be "on schedule" once we arrived in London. We slept for about five hours, and then G enjoyed several episodes of
Family Guy
while I watched
Project Nim
.
Once we got to Heathrow, it was the next day! We went through the insanely long passport check and then to the baggage claim to meet our driver, who whisked us away in a swanky black Mercedes-Benz. I embarrassed myself by starting to get in on the passenger side...only realizing my mistake when I saw the steering wheel. Oops! Face burning, I climbed in back with G instead.
The driver dropped us off at the
No. 1 Mansions
apartment complex, our home away from home for the first few days of our trip. Padre greeted us at the door, and after hugs and a quick group photo, we went upstairs and said hi to Madre, G's sister A, brother-in-law J, and nephews I. and D, affectionately referred to as "the lads".
Our apartment (sorry, "flat") had 4 bedrooms and 3 bathroom, a kitchen, a dining room, and a huge sitting room. It was a bit rundown in places---peeling wallpaper, a crayon scribble above our bed---but overall, I really liked it. It was in a quiet neighborhood convenient to lots of shops and restaurants, the kitchen came in handy on several occasions, and we ran the tiny combination washer/dryer almost constantly. I had to laugh at this tidbit from the guest directory: "Please do not overload the washing machine as it simply cannot cope." I imagined a confrontation like this:
ME:
"Please, washing machine, I need clean underwear!"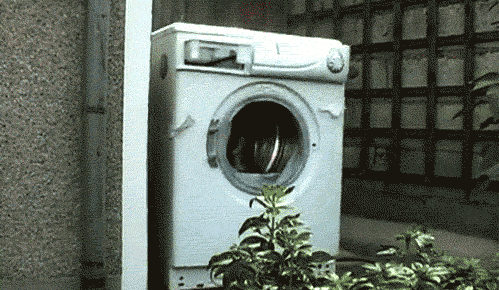 Once G and I had a chance to put away our luggage, freshen up, and change, we walked to Whits restaurant for Madre and Padre's 50th anniversary dinner. They both gave speeches and cried, which of course set me off because I'm a notorious sap. Seeing anyone cry tends to make me mist up, but if it's somebody I love? Forget about it; I'm awash in a flood of tears. I had ribeye and excellent french fries and a glass of "champers", and G and I split chocolate mousse for dessert. We also got tiny individual mincemeat pies with our check, which were pretty good...certainly better than peppermints! Then we walked back to the flat and hung out for a bit before going to bed. I didn't sleep very well, partly because I was still on California time (so it was about 3PM as far as my body was concerned) and partly because our room was an oven! G found a fan in the closet, which is probably the only thing that kept us from succumbing to heatstroke.
The next morning, after showering and gasping with delight at the heated towel rack, we took the subway (sorry, "underground") to Buckingham Palace to see the changing of the guard. Unfortunately, most of my pictures didn't come out because I was getting crushed against the railing by the crowds, but you'll get a general idea. Mouse over for the occasional comment.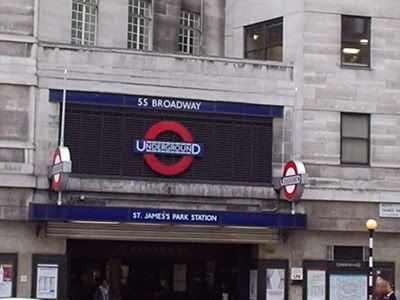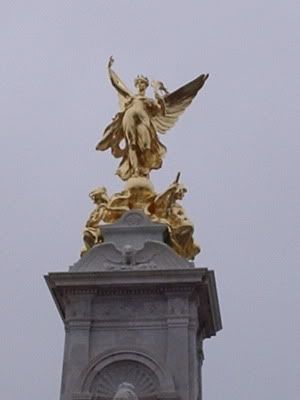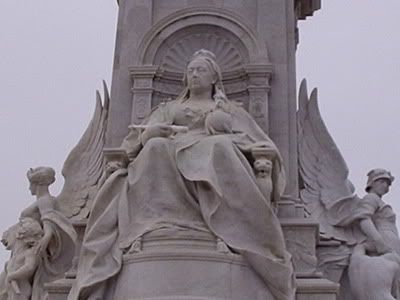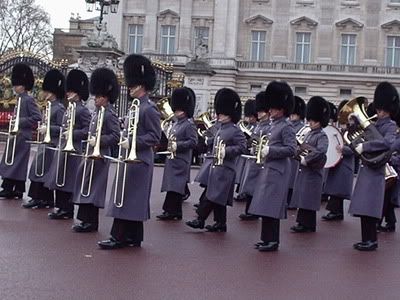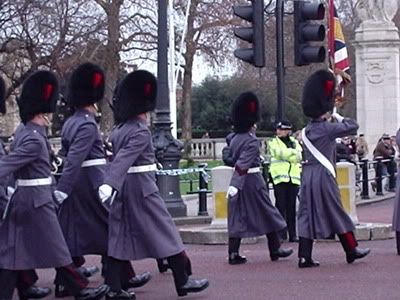 It got a little repetitive, but I enjoyed the pageantry of it and the fact that the band spiced up their routine with Christmas carols and, oddly, the hook from Salt N Pepa's "Push It"! What would the Queen say?
Afterwards, we walked through a gorgeous park and had lunch at a pub. The service was pretty dismal, but I really liked my fish and chips. I don't ordinarily like fish all that much, so that's a glowing endorsement!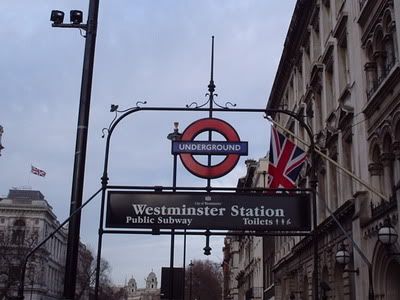 We stopped at Westminster Abbey, but they were closed for the holidays. I still took a few pictures, though.
Next up, we went to the London Eye, catching sight of this regal fellow along the way: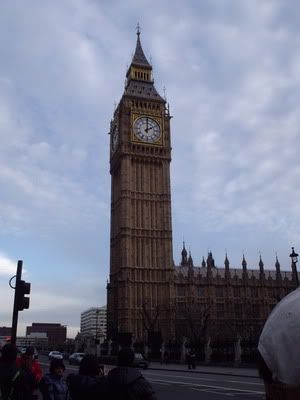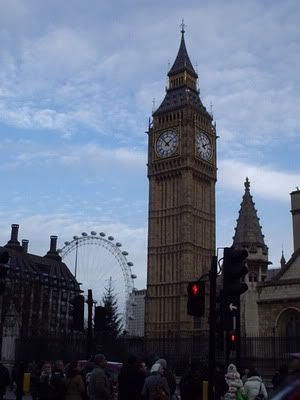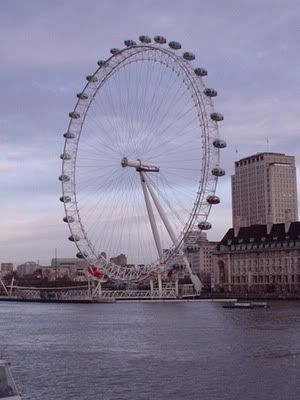 As you can see, the London Eye is a huge Ferris wheel that takes a full 30 minutes to go all the way around and offers spectacular views of London, including Big Ben and the Parliament Building. J and A opted out, preferring to walk around instead, and Madre and Padre met up with old friends for coffee, so it was just me, G, and the lads. It was spendy as shit, but you couldn't beat the scenery!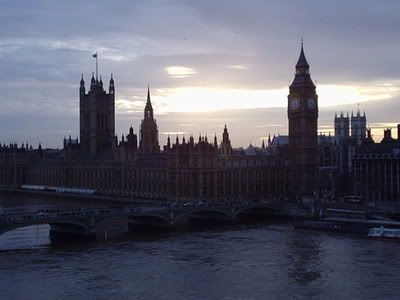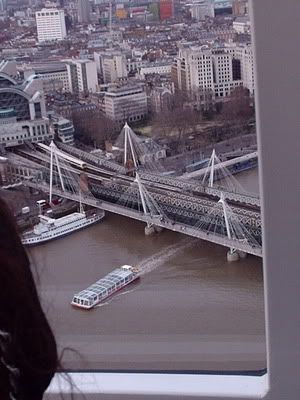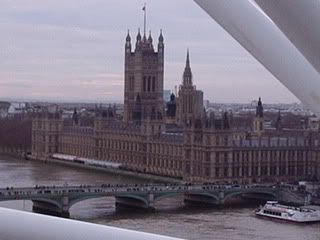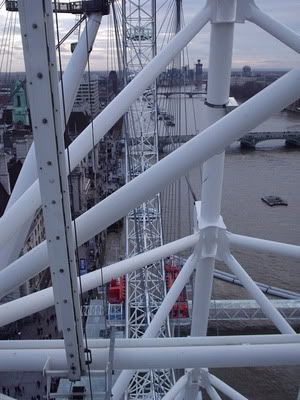 We took the underground back to our neighborhood and several of us walked to Tesco's to pick up assorted groceries. We wound up taking a cab back to the flat because we had so much to carry! I bought a selection of delicious chocolates (including the oddly named My Purple Bar, which looked like several small footballs welded together and tasted like hazelnuts and caramel and was fucking awesome) and a bunch of women's magazines, my favorite of which was the gloriously addictive
Love It!
. How could anyone resist cover lines like "Shame! Daddy Drank My X-Mas" and "My Crispy Cleavage Horror"? But paging through them, I felt like I'd failed reading comprehension. The magazines were in English, of course, but I never realized how much slang we actually use on a regular basis. Some of it was obvious from context ("I caught my best friend and my hubby in the nuddy"), but other phrases had me scratching my head. Dolly mix? The pancrack? Panto? Things were completely hatstand? Mysterious!
Anyway, I passed out reading and G woke me up for dinner: a delicious pasta prepared by J. Then we watched the Giants/Jets game live on some shady website. Fortunately the Giants won, or we would have been in a right paddy indeed.
(To be continued...)