meet the parent
Last night was the fateful meeting between G and Daddy-O, and there isn't anything I could possibly say about it that isn't better summed up by this picture: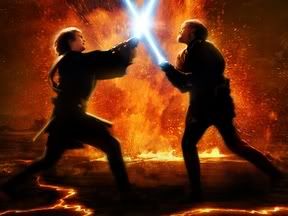 Okay, not really. Here's the full scoop.
G was supposed to meet us in the lobby of Daddy-O's hotel, and as I fussed with the side tie on my kimono top, I said, "You're going to be on your best behavior, right, Dad?"
"Mmm," he grunted non-commitally.
"
RIGHT?
"
"Yes, little Ro, I will be on my best behavior."
My heart soared when my NS walked in. I leaped from the couch and gave him a big hug, and then I did the formal introductions. We chatted for a few minutes, and then we piled into Daddy-O's rented Camry and headed to Café Fiore, a lovely restaurant in beautiful downtown Ventura. We ordered drinks, and I gulped down my Milky Way martini in no time flat.
The conversation went well. I sat back and stayed quiet for the most part so they could get to know each other. They talked about everything from Daddy-O's days in Taiwan and prep school to G's job, and there were several times when we all burst into raucous laughter over some anecdote or another. The food was excellent, as usual, and as I spooned up the last drops of my vanilla bean gelato, I thought,
This went much better than I could have ever hoped.
Back at the hotel, we all sat out by the pool and continued our conversation, and then Daddy-O excused himself, saying that his hip was bothering him and he was going to lie down and rest. (I don't think G noticed the sly wink he shot me.) When he was gone, I immediately pounced on him and gave him a hug.
"I missed you so much," I murmured.
"I missed you a little bit too."
I pulled away and pouted. "Just a little bit?"
"Maybe a smidge more than that," G said.
We kissed for a long time, and when he finally pulled away, he said, "I really like your dad."
"Good! He obviously likes you, too."
"Man, I would never hurt you anyway, but I
SURE
wouldn't after meeting him. How tall
is
he anyway?"
"Six-three."
"And how tall's your brother?"
"Six-two."
"Uh…yeah, I'm going to try to avoid ever pissing you off."
I buried my head in his shoulder and snaked a hand around to grab his sweet, sweet can. "I don't think you could piss me off if you tried," I whispered.