Costa Rica pt. 6: O Fortuna
[01/29/09; transcribed from trip journal. Mouse over pictures for comments.]
When I was in the gift shop this morning, I noticed a shirt with a picture of that animal (the raccoon-like one with the babies) I saw a couple of nights ago. Underneath the picture, it said
pizote
. I asked Jose what it was, and he said it was a coatimundi.
I wasn't very hungry, but I went to breakfast anyway and had a small bowl of Rice Krispies and a couple of cookies. They usually have desserts at breakfast here, which is a tradition I could certainly get behind! Afterwards, I checked my e-mail at the lobby and then I got on the bus. At one point, we stopped on a bridge to look at the iguanas nesting in the trees.
Our destination was the Rio Frio, where we'd be taking another boat ride.
Here's our guide, Bernal.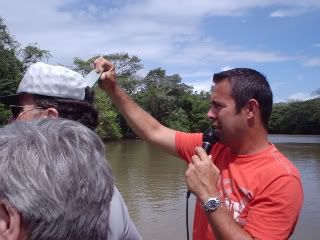 We saw monkeys (including a rare golden mutation named Blondy; we didn't see her daughter, Goldy), sloths, birds (including a bright pink roseate spoonbill flying overhead), and more Jesus Christ lizards. Bernal eased the boat up next to one, and then he shook the branch, sending it sprinting across the water.
We stopped right on the border of Nicaragua and disembarked for pictures.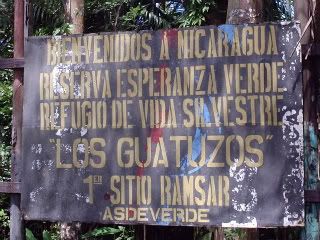 Please, try not to be too envious of my kickin' lid when you see this next photo.
I know, I know; it's ugly as hell, but it was a godsend as far as keeping the sun out of my eyes and bugs out of my hair. Plus it's versatile: brim down, I'm Gilligan; brim up, I'm Blossom!
When we got back on the boat, Bernal reversed it so that we were officially in Nicaraguan waters. (I refrained from shouting "Nicaragua, AGUA!" a la Beavis.) He said, "Now we are all illegal. We're wetbacks!"
Back on the bus, our next stop was the small but lovely town of Fortuna.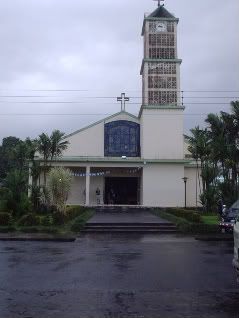 I mailed my postcards, got a scoop of pistachio ice cream, and looked in stores. Next, we went to volcanic hot springs for a soak, which would have been much more fun if it hadn't been raining. I had to wear my glasses because my crappy eyes + slippery pool edges = broken bones in the making, and they were getting too steamed up to be of much use. But I did soak in a gloriously hot pool and went down a very steep water slide, which was scary as hell but exhilarating.
I have to say, there's no lack of body confidence among Costa Rican women, which is wonderful. I saw everything from model perfect bodies to rashers of back bacon, but nobody seemed self-conscious at all…which is, of course, the way it should be. I proudly rocked my old school skirted swimsuit.
It's funny how things have changed since this trip began. Those first few days, I kept to myself and ate my meals alone, but in the changing room, I was having a conversation with Jean while we were both totally naked!
Back at the hotel, I took a quick shower and then logged some computer time before dinner.
I sat with Roxanne and the New Jersey folks, and Roxanne was telling us about the night before, when she ordered a BJ shot from the bartender and asked him if he knew what that meant. Linda interrupted and said, "What
does
that mean?"
Roxanne was startled. "You don't know what that is?"
"No. Seriously, a VJ?"
"Oh, no, a
B
J. Like a blow job!"
"Oh!" Linda looked relieved. "I thought that was some weird thing I'd never heard of. But that wouldn't be hard; I thought oral sex meant talking dirty until I was in my twenties!"
While walking back to my room, it began raining, so I pulled out my trusty umbrella. I put my foot down and something squooshed underneath and made a grunting sound. I shrieked and jumped back, and it hopped away. I didn't put my full weight down on it, so hopefully it wasn't mortally wounded.
My laundry was neatly hung up when I got inside, and I also had a charming animal created from towels on the bed.
I freshened up and then went to the lobby to use the computer and settle my laundry bill. $17, but it was well worth it. I packed and showered, and now I'm going to read for a few minutes before bed. We're getting a
VERY
early start tomorrow; I have to be up at 5AM!