Vegas pt. 1: how do you say moth in Italian?
Okay, I'm finally recovered from my horrific bout of food poisoning. I weighed myself this morning, and I actually lost six pounds. Funny how constant puking and shitting and a diet of crackers and Gatorade will do that to you. Three more days and I would have been ready for bikini season.
Anyway, here's the first installment of my Vegas recap, which will be more show than tell. Those of you with slow connections may wish to grab a refreshing beverage or light snack while waiting for the pictures to load. Also, some of the pictures have comments if you mouse over them.
---
On Sunday, April 26th, I left for the Burbank airport at 1PM. To my astonishment (and that of anyone who's familiar with the 101S on a Sunday afternoon), there was absolutely no traffic at all. I scored a sweet parking spot, hoisted my luggage out of the trunk, patted Ginji on the bumper, and headed inside. I sat in the terminal and read
Breathers
until they started boarding.
Can I just say how much I love Jet Blue and their big seats, snacks, seatback TVs, and full cans of Coke? (No, I'm not still angling for corporate sponsorship, but feel free to flip me some.) The flight from California to Vegas is short as it is, but flying in comfort really made it speed by.
When I landed, I caught a cab to the Venetian and checked in. A jauntily costumed man played accordion by the fountain as I gawked at the lobby.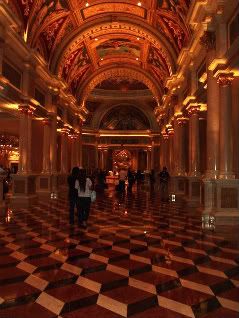 Oh, for those of you wondering: no, I didn't just come into possession of a large amount of money which would enable me to stay at such a swank place. Originally, my dad was supposed to come to Vegas with his girlfriend, and she'd always wanted to stay there. So he booked a room and asked if I wanted to meet up with them. Of course, so I booked a flight and a room at the cheap (but surprisingly nice, at least if you ask for the updated rooms) Excalibur. But then they broke up, so he asked if I wanted to bunk with him for free. I accepted (duh), and he changed the reservations so we'd get two beds (also duh).
Anyway, when I got into the room, I squealed with delight. A huge bathroom with an amazing tub! Glorious Agraria toiletries that instantly found their way into my travel kit! And oh, the beds!
Um…
Okay, wait. Do you guys notice anything…
STRANGE
in that picture? I know it's kind of small, but take a minute and study it carefully while I put up some more pictures.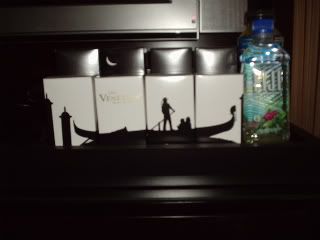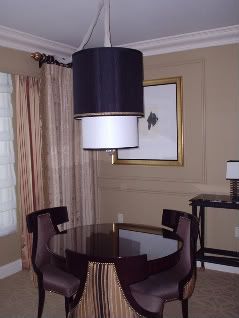 Okay, did you find the surprise in the picture of the beds? It's a fucking
PILL BOTTLE
under the nightstand. An empty bottle of Ambien, to be precise. Not only that, but the room had an infestation of huge moths; it was like Buffalo Bill's basement in there. I mean, come on! This room cost a fucking fortune! So I was disappointed, to say the least.
Anyway, by the time I unpacked, freshened up, and took care of the moth situation, I still had about two hours before Daddy-O was set to arrive. I decided to hoof it over to the Bellagio and pick up our tickets for O. Afterwards, I wandered around the conservatory and then checked out the chocolate fountain at the Jean-Philippe Patisserie.
This place, by the way, was like Sexworld for food addicts.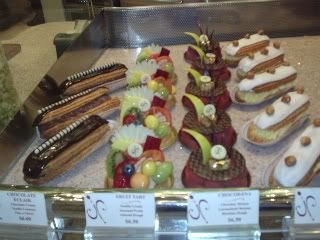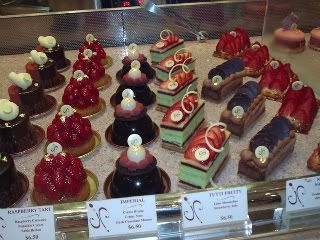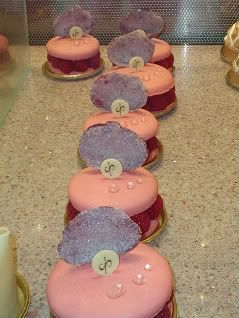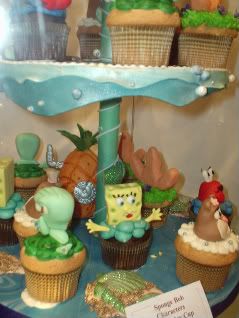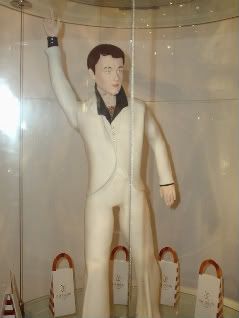 Of course I couldn't leave without getting a treat: a lemon meringue and raspberry tart in an almond crust. OMFG THE YUM.
As I was walking back to the Venetian, I got a call from Daddy-O saying that he was waiting in the lobby. I quickened my step, and as soon as I got inside and saw him sitting on the edge of the fountain, I flung my arms around him. I hadn't seen him in almost 9 months! We went up to the room so he could put his things away and rest before Cirque du Soleil…
…which, by the way, was fucking
BRILLIANT
. I was worried that we wouldn't be able to see anything because we had nosebleed seats up in the balcony, but I think it was actually an advantage since so much of the action took place in a pool. There were a couple of clown skits that I could have done without, but overall it was beautifully surreal.
Afterwards, we walked back to the hotel, had a very late dinner at the Grand Lux Café, and did some gambling before turning in for the night.
---
Monday was a pretty mellow day. After showering and getting dressed, we took a cab to Mandalay Bay for breakfast. I was looking forward to cramming another one of those Belgian waffles with vanilla anglaise sauce into my piehole, but we missed breakfast by 15 minutes. Goddammit! I consoled myself with a grilled ham and cheese sandwich and an obscene amount of fries instead.
Daddy-O couldn't resist posing for this saucy snap: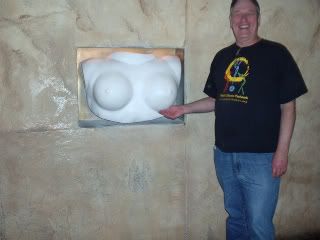 When I was taking this picture, an older woman wearing a sweater with a Bedazzled slot machine on the front yelled, "Be gentle with those, honey!"
Of course, I had to play my two favorite slot machines: Mr. Lucky's and Golden Monkey. I posted a picture of Mr. Lucky just last month, but here's one of Golden Monkey.
We went to Shark Reef, which was fairly small but had a nice selection of creatures to gawk at. I particularly liked the petting pool, where I gleefully stroked a horseshoe crab and this dude, who felt like a wet Pink Pearl eraser:
This is the last thing many a Japanese schoolgirl ever sees: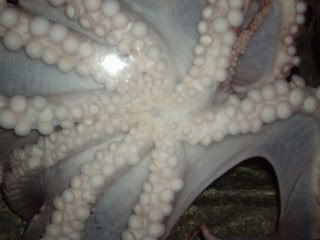 After Mandalay Bay, we took a cab back to the Venetian and went on the gondola ride. It was cheesy as all hell, but like many cheesy things, it was a lot of fun.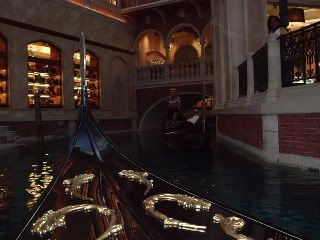 We ate at the Bellagio buffet for dinner because I'd read that they serve kobe beef. Yeah, um, no. Turns out that they only serve that during their extra-special, extra-spendy Friday and Saturday night buffets. Sulking, I consoled myself with prime rib, gloriously buttery mashed potatoes, jasmine rice, and several desserts.
The rest of the night was spent gambling and watching the excruciatingly corny Sirens of TI show from across the street. I bought the new In Style at the hotel gift shop, poured my Japanese herbal bath salts into the tub, and soaked for an obscenely long time, getting out only when Daddy-O knocked on the door and said, "Are you gonna be in there much longer, Ro? I need to use the shitter!"
---
Tuesday deserves its own entry, so I'll get that up as soon as I finish uploading and editing the eight trillion pictures I took…including, as promised, the best picture ever taken of anyone or anything ever.
EVER
.