best of 2012: movies
Now it's time for my favorite movies of 2012! Just a few notes before I begin:


Not all of these were originally released in 2012, but that's when I first saw them.

Aside from the first two movies listed, these aren't necessarily in order of preference.

And, as always, your mileage may vary.
---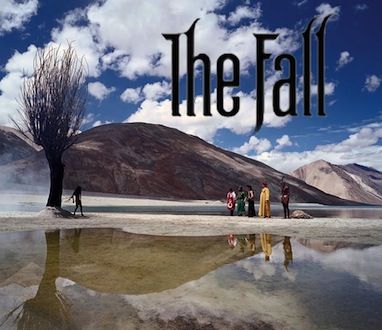 In 1920's Los Angeles, a young hospital patient named Alexandria befriends Roy, a stuntman who became paralyzed during a movie shoot. In order to win Alexandria's trust, Roy begins weaving a fantastical tale of five heroes who are determined to overthrow an evil governor.
This is one of the most gorgeous movies I've ever seen; it was shot in 18 different countries and has spectacular costumes by designer Eiko Ishioka. The little girl who plays Alexandria is amazing (though occasionally hard to understand; English is not her first language in either real life or the movie), and as Roy, Lee Pace is excellent as well. They have incredible chemistry together, and I guarantee they'll break your heart and put it right back together again.
I knew
The Fall
would be visually stunning, since Tarsem (
The Cell
,
Immortals
, REM's "Losing My Religion" video) directed it; I swear you could take any random shot from one of his movies and hang it on your wall, like the pictures above. But I really wasn't expecting to be so engrossed and moved by the story. I get the feeling that people who'd hate it would
REALLY
hate it, but major thumbs up from me. It wound up securing a place in my top ten of all time.
Side note: Less than 24 hours after watching it for the first time, I watched it again with Glenn, who didn't know anything about it other than the title. About 30 minutes in, he said "Am I going to have to hold this movie against you?" But he wound up loving it, so if you watch it and are all meh at first, please give it a fair chance and you too might be blown away.
---
...AND THE REST
2.
The Avengers
: When Loki sets his sights on Earth, the Avengers must band together to take him down. Lots of terrific action scenes and a sharp script made this exciting movie an absolute treat to watch. And oh my god, talk about eye candy!
3.
The Cabin in the Woods
: Five friends go to a cabin in the woods for a getaway, and...yeah, not saying anything else because this is the kind of movie you want to know as little as possible about. I'll only add that it was written by Joss Whedon and Drew Goddard, and it puts the lie to the cliche that there are no new ideas.
4.
50/50
: Adam (Joseph Gordon-Levitt) is horrified when the back pain he's been experiencing turns out to be a malignant tumor. And if chemotherapy, surgery, and confronting his own mortality aren't enough, Adam also has to deal with a well-meaning but awkward therapist, an overbearing mother, and a girlfriend who can't cope with his diagnosis. You wouldn't think a movie about cancer would be funny; you'd be wrong. But don't forget your tissues, or by the time this wonderful movie ends, you'll be using your sleeve instead.
5.
Skyfall
: When MI6 comes under attack, James Bond has to cope with a missing list of undercover agents, a beautiful seductress, and a flamboyant villain who has a serious beef with M. Lots of terrific action sequences, a bravura performance by Javier Bardem as the bad guy, and the icily gorgeous Daniel Craig add up to a whole lot of fun.
6.
The Raid: Redemption
: A SWAT team goes after one of Jakarta's most notorious drug lords, who's hiding in an apartment building. But in order to reach him, they'll have to fight floor after floor of the bad guy's minions. A brutally violent, incredibly exciting film filled with tons of awesome fight sequences that can only be described as muay thai meets knife fu.
7.
God Bless America
: Frank is a lonely man who's tired of the cruelty and stupidity that permeate American culture. When he's diagnosed with an inoperable brain tumor, he plans to kill himself, but then he changes his mind and decides to take out assholes instead. Along the way, he picks up a teenage girl who wholeheartedly approves of his mission, and together they set out to clean up America, one jerk at a time.
If
Idiocracy
and
Natural Born Killers
had a child together that was raised by
Serial Mom
's Beverly Sutphin, it would be
God Bless America
. Be warned, it takes dark comedies to a whole new level, but if you've ever suffered through a movie with jabbering dickholes behind you or wanted to rip your hair out over bigots like Fred Phelps,
GBA
will be a gloriously cathartic tonic for your soul.
8.
Young Adult
: Mavis used to be the hottest girl in high school, but as an adult, she's kind of a wreck. She ghostwrites for a once-popular teen book series, but she keeps getting distracted by reality TV, alcohol, and online shopping. Then she receives an email birth announcement from her old boyfriend and heads to the small Minnesota town where he lives, determined to win him back despite the fact that he's a happily married new dad. A dark comedy with plenty of cringeworthy moments and terrific performances, especially by Patton Oswalt (as a geek who tries to be the voice of reason) and Charlize Theron.
9.
ParaNorman
: Norman is a young boy who's bullied because he claims that he can see and communicate with dead people. But when a witch's curse revives the dead and threatens his small town, Norman is determined to save the day.
The trailers for this movie were awful, so I wasn't expecting much, but terrific stop-motion animation and a clever script (including two awesome jokes that I can't believe they managed to include in a movie made for kids) made this a very happy surprise. And be sure to check out the extras to see how this movie came to life; the work that went into it is staggering.
10.
Safety Not Guaranteed
: Three magazine employees, including sullen intern Darius (Aubrey Plaza, who's excellent), get an idea for a story when they spot an unusual classified ad: someone looking for a partner to accompany him on a time travel mission. When they track him down, Darius is chosen to befriend him, and she finds herself drawn into his orbit. An overlooked gem that's very funny and surprisingly moving.
---
RANDOM STUFF
MADE ME CRY (OR AT LEAST MIST UP):
Professor Layton and the Eternal Diva, Love Actually, 50/50, Project Nim, The Elephant in the Living Room, The Descendants, War Horse, The Grey, The Secret World of Arrietty, The Last Lions, The Dark Knight Rises, Weekend, The Hunger Games, The Five-Year Engagement, Safety Not Guaranteed, Seeking a Friend for the End of the World, Brave, ParaNorman, The Hobbit: An Unexpected Journey, Beasts of the Southern Wild
MADE ME NOT JUST CRY, BUT SOB UNCONTROLLABLY:
Hachi, The Fall
BEST OPENING CREDITS:
The Fall, Don't Be Afraid of the Dark, The Girl with the Dragon Tattoo
SEEN IN THE THEATER:
The Avengers, The Amazing Spider-Man, The Dark Knight Rises, Killer Joe
, a charity screening of
The Iron Giant
,
Skyfall, The Hobbit: An Unexpected Journey
MOST HORRIFYING SCENES:
The fried chicken scene in
Killer Joe
; the going away party in
Entrance
; the stampede's aftermath in
The Last Lions
; Lola injecting bleach into her "boyfriend's" neck in
The Loved Ones
; the castration scene in
V/H/S
; Lisbeth's revenge (and the incident that sparked it) in
The Girl with the Dragon Tattoo
BEST STINGER:
The second one in
The Avengers