media update: November
And how was your Thanksgiving weekend? Mine was quite lovely, for the most part, although it was somewhat marred by the noisy renovation next door and the news about Paul Walker. Not only was he a member in good standing on my laminated list, but he also starred in some of my favorite movies (if you haven't seen them, go rent
Joyride
and
Running Scared
stat) and by all accounts seemed like a good guy, so that was some shitty news.
On the plus side, four days off work! And four days spent with G-Vo watching a metric fuckton of TV/movies, eating delicious food, and playing Deadpool. It stars Marvel's most foulmouthed antihero, and although the action is standard boilerplate, the dialogue is hysterical. Gotta love any game that includes the direction "Press X to make a stink pickle".
Asterisks denote something I particularly enjoyed or found especially worthy of my time; your mileage may vary.
---
FICTION
1.
The Silent Wife
by A.S.A. Harrison: Jodi and Todd have been together a long time, but their relationship is swiftly falling apart, and Jodi makes a fateful decision. (The back cover spoils it, but I won't.) An interesting portrait of a marriage in decline, but I doubt I would have finished it if I hadn't been hard up for reading material at the time.
2.
The Valley of Amazement
* by Amy Tan: Violet is a young half-Chinese, half-American girl living in Shanghai in 1912. Her mother, a celebrated madam, falls in love with a man who betrays her and sells Violet to a rival courtesan house. Violet struggles to survive her new world, all the while wondering what happened to her mother. This novel suffers from occasional purple prose, but I still really enjoyed it.
3.
Altered
by Gennifer Albin: Because this is the second novel in the Crewel World trilogy, I can't give it a proper review lest I spoil things from its predecessor. It was a bit disappointing, though, and the surprise appearance of a historical figure near the end made me laugh, though that wasn't the book's intention.
4.
Tumble & Fall
by Alexandra Coutts: Postapocalyptic YA novels are a dime a dozen, but this is something different: a
PRE
apocalyptic YA novel. An asteroid is hurtling towards Earth, spelling almost certain doom for our planet. Three teenagers (Zan, Caden, and Sienna) use their last days to tie up the loose ends of their lives. It reminded me a lot of
The Age of Miracles
by Karen Thompson Walker, and although it's not as good, it's still unusually well written for a YA novel, and way better than the cheeseball cover would lead you to believe.
5.
Dust
by Patricia Cornwell: When a body is found zzzzzzzz....
Oh, sorry, did I fall asleep? No surprise considering that this book was fucking
BORING
. It makes me sad thinking how good Cornwell used to be, but apparently she's one of those authors (see also James Patterson) who used to be terrific, got famous, and then thought "Now that people will buy a book with my name on the cover no matter how shitty it is, I'm just going to sit back and count my money, mwahahahahaha!" Stephen King's been writing since the 70s, and even though he's written some clunkers, I've never gotten the feeling that he isn't trying. (Okay, maybe
Dreamcatcher
.)
Side note: On page 19, we're treated to this line: "I sit up in bed and sort through files inside the master suite of our nineteenth-century home that was built by a well-known transcendentalist." In addition to being clunky and weird, it sounded familiar to me. So I did a search on my diary, and in my January 2012 review of
Red Mist
, I quoted this line: "As my FBI forensic psychologist husband put it last night while cooking dinner in our historic Cambridge home that was built by a well-known transcendentalist..."
Patricia, seriously, I gotta ask:
WHAT IS THE DEAL WITH THE TRANSCENDENTALIST?
---
NONFICTION
1.
Men We Reaped
by Jesmyn Ward: A heartbreaking memoir about five young men the author knew who died far too soon.
2.
The Book of Jezebel: An Illustrated Encyclopedia of Lady Things
*: Jezebel is probably my favorite website, so I was eager to get my hands on this book, and it did not disappoint. In characteristic snarky fashion, it covers everything from the important (abortion rights, Judy Blume, menstruation) to the proudly cheesetacular (Sweet Valley High, VC Andrews, and of course their feud with Scott Baio and his wife, who infamously referred to the writers at Jezebel as "lesbian shitasses" on her Twitter).
3.
Ivan Ramen
* by Ivan Orkin: In 2007, the author opened a ramen shop in Tokyo. His shop was popular at first because people were curious about what an American would do with such a beloved Japanese staple, but it turned out that the dude could cook. Part memoir, part cookbook, it's a very interesting book and includes some majorly fapworthy pictures of food porn.
4.
Rookie Yearbook Two
* edited by Tavi Gevinson: Another excellent selection of essays and photos from
Rookie
.
---
MANGA/GRAPHIC NOVELS
1.
No Matter How I Look at It, It's You Guys' Fault I'm Not Popular!
by Nico Tanigawa
2.
Sleeping Moon
by Kano Miyamoto
3.
Good Morning
by Ritsu Natsumizu
4.
Judge
by Yoshiki Tonogai
5.
A Bride's Story
* vol. 5 by Kaoru Mori
6.
Avatar: The Last Airbender - The Search Part 3
* by Gene Luen Yang and Gurihiru
7.
The Freddie Stories
* by Lynda Barry
8.
Puella Magi Oriko Magica
vols. 1-2 by Magica Quartet and Mura Kuroe
9.
Soulless
by Gail Carriger and REM (not the band, obviously)
10.
Yotsuba
vol. 12 by Kiyohiko Azuma
11.
Rin-Ne
vol. 13 by Rumiko Takahashi
12.
Demon Love Spell
vol. 4 by Mayu Shinjo
---
MOVIES
1.
The Conjuring
*: When a family discovers that their house is haunted, they call upon Ed and Lorraine Warren, famous paranormal investigators, for help. A delightfully spooky thriller, though I agree with many reviewers that the little scares (like the "clapping game", which was seriously unnerving) are more effective than the larger ones.
2.
Monsters University
: In this
Monsters Inc.
prequel, Mike and Sully meet at college and instantly clash. But they have to put their differences aside in order to win the Scare Games and stay in college. It's very cute and has a few funny moments, but the script could have used some punching up.
Side note: G-Vo and I weren't too impressed with the short ("The Blue Umbrella") before the movie until we found out that it was completely computer animated. We seriously thought it was 95% live action! So that kicked up our opinion a few notches, because that was amazing.
3.
After Earth
: A thousand years after Earth has been rendered uninhabitable, the fearless General Cypher Raige and his son Kitai (Will Smith and Jaden Smith) crash on the planet. General Raige is too fucked up to go anywhere, so he sends Kitai on a dangerous mission to find the rescue beacon and get help.
This was a huge commercial and critical flop, and maybe it's a case of lowered expectations kicking in, but I actually enjoyed this movie. The special effects are (mostly) pretty good and I cared about the characters and their plight.
4.
Lovelace
: This biopic tells the story of Linda Lovelace (Amanda Seyfried), who went from a naive young woman to the first porn superstar after her manipulative and abusive husband (Peter Sarsgaard, playing the kind of nasty sleazeball he does so well) coaxes her into doing
Deep Throat
. Excellent performances, but man is it depressing.
Side note: Netflix's description of this movie includes the line "The supporting cast includes all manner of Hollywood A-listers stepping into meaty roles." Netflix, I see what you did there!
5.
The Hangover 3
: About the only good thing I can say about this movie is that it's better than
The Hangover 2
, which is pretty faint praise. That's like saying my last bout of diarrhea was better than my last migraine.
6.
The Internship
: After Billy and Nick (Vince Vaughn and Owen Wilson) lose their jobs, they manage to snag internships at Google, where they have to beat a much younger and smarter group of interns in hopes of winning actual jobs. It's predictable and basically a 2 hour advertisement for Google, but it's also
MUCH
funnier than I thought it would be. Shit, I laughed more in the first ten minutes than I did during all of
The Hangover 2
and
The Hangover 3
combined.
Side note: if you rent this, be sure to pick the unrated version and not the theatrical version; unlike most movies where they're trying to make you think it's something extra sexy/violent and it's just some random convo that the MPAA didn't review, it actually makes a huge difference for this flick.
7.
Frances Ha
: Frances is a young woman trying to navigate life and love in New York City. Greta Gerwig has always been the best part of everything I've ever seen her in (
House of the Devil, Lola Versus
, the execrable
Greenberg
), and this movie is no exception; she's got a luminously daffy presence. There isn't much of a plot, but it's worth seeing for her.
8.
The Heat
*: An uptight FBI agent (Sandra Bullock) is sent to Boston to track down a drug lord. She's paired with a crass cop (Melissa McCarthy) who doesn't like having her territory encroached upon. The two leads play really well off each other, and it's often uproariously funny.
9.
Paradise
: After she's badly burned in a plane crash, Lamb (Julianne Hough) turns her back on her church and her conservative family and decides to head to Las Vegas, where she plans on making up for lost time by doing all the things she's been forbidden to do her whole life. She meets a grumpy lounge singer (Octavia Spencer) and randy bartender (Russell Brand) who decide to help her with her quest.
This was written by Diablo Cody (
Juno, Young Adult, Jennifer's Body
), and like all of her movies, the dialogue tries too hard to be clever and quirky. And I thought it was far too convenient that Lamb's lovely face was magically spared in the crash, though I guess there's no point in getting someone who looks like Julianne Hough for your movie and then covering her up with makeup and prosthetics. And the only way you won't guess what happens at the end is if you've never seen a movie before. But it does have some great lines (3 of which wound up in my 2013 best movie lines post) and Russell Brand is particularly charming in this, so if it sounds interesting to you, give it a whirl.
10.
Man of Steel
: I really wanted to love this Superman reboot, but it took far too long to get going and some of the special effects are cheesy. It's not bad, but it's the only one of Zack Snyder's movies I've given less than 4 stars on Netflix.
11.
The To Do List
: After graduating from high school, uptight bookworm Brandy (Aubrey Plaza) decides to make a list of sexual activities she'd like to do before college. It's very raunchy and often quite funny, and the early 90's soundtrack is boss, but you've seen variations on this premise done a thousand times before.
12.
White House Down
: In the second "White House under attack" movie this year, Channing Tatum is touring the White House with his daughter when some serious shit goes down. Fortunately, Chay Tates is a boss and saves the day. (Um, sorry, spoiler alert I guess.) It's really stupid, but it's fun. For optimal enjoyment/suspension of disbelief, do as G-Vo and I did and split a bottle of wine before viewing.
13.
We're the Millers
*: A pot dealer is asked to pick up a shipment from Mexico, so he recruits a stripper, a teenage runaway, and his dorky neighbor to come with him and pretend to be his family, figuring that he'll be less suspicious that way. Complications ensue, of course. Much funnier than I thought it would be.
14.
The Way Way Back
: Shy teenager Duncan goes on vacation with his mother, her asshole boyfriend (Steve Carrell), and Asshole Boyfriend's daughter. He finds refuge at the local water park, where an employee (Sam Rockwell) takes Duncan under his wing. I thought it was a little overrated, although Sam Rockwell is awesome as always.
---
ADDED TO MY IPOD
1. "Here Be Monsters" by Ed Harcourt: This is the song that plays during the joke ending of Silent Hill Downpour.
2. "Scary Monsters and Nice Sprites" by Skrillex: I'm not a dubstep/EDM fan, but I love this song because it sounds like something Transformers would bang to.
3. "Fuck U Betta (Chuckie Club Remix)" by Neon Hitch
---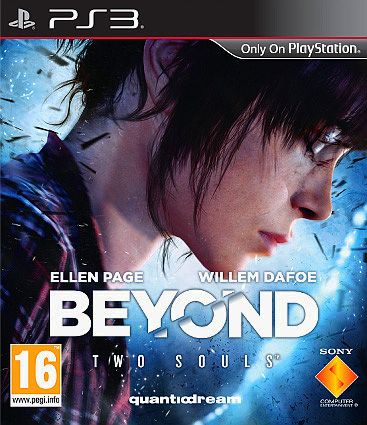 VIDEO GAME OF THE MONTH
(This was a really difficult game to review, but Kotaku had the same problem, which makes me feel a little better. If you'd like to see their review, it's
here
.)
Ever since she was born, Jodie Holmes has been connected to an unseen entity she calls Aiden. They're bound together by a spiritual umbilical cord of sorts; if he gets too far away from her, it causes her great physical and emotional distress. When Jodie's powers become too much for her foster parents to bear, she's sent to a military base and raised by paranormal researcher Dr. Nathan Dawkins. As she gets older and more in control of Aiden, the CIA recruits her, but she quickly discovers that she doesn't always agree with what they want her to do.
BEYOND GOOD


With the exception of an ugly texture here and there, the graphics are beautiful.

Ellen Page and Willem Dafoe did the voices for their characters in addition to the mocap, so the voice acting is excellent. They have the biggest roles and stand out the most, but offhand I don't remember any bad performances from the supporting cast.

For the most part, the storyline is really interesting, and there are several genuinely touching moments; I teared up more than once.

Couch co-op! I played Jodie and G-Vo played Aiden during our first playthrough; obviously we'll be playing it again and switching roles.

Having a pet poltergeist made for a fun addition to the gameplay. Aiden can go through walls to eavesdrop or unlock doors from the other side, move things around, possess people, and even heal Jodie and protect her from bullets or long falls by creating a force field around her.
BEYOND THE PALE


The creator, David Cage, also did Indigo Prophecy and Heavy Rain, which is my second favorite video game of all time and one of only three I'd give a perfect score. (For the record, the other two are Silent Hill 2 and Resident Evil 4.) So I can't say that I didn't know what I was getting into, but it really is like playing a movie at times, especially since the main characters are so obviously Ellen Page and Willem Dafoe. You may be wondering why I'm counting this as a negative, but it took me out of the fictional dream.

The gameplay can be a bit simplistic at times and frustrating at others. And unlike Heavy Rain, where literally every character could die and the game would go on without them (not a spoiler; deaths in that game are overwhelmingly due to the choices you make), Jodie is apparently impossible to kill, which makes things a bit too easy.

I can't explain this next point in detail because it is a MASSIVE spoiler, but I had a major problem with something that happens near the end. It genuinely bothered me.
BEYOND FUNNY
At one point, Jodie is making dinner, and during the scene where I was chopping vegetables, G-Vo said "Coooooooooooking Mama!" You kind of had to be there, but I was rolling
HARD
.
Overall, Beyond: Two Souls is a solid game that fans of Indigo Prophecy and Heavy Rain need to check out. Much better than the former but inferior to the latter, it's a hybrid of both that's well worth playing.