best of 2010, miscellaneous edition: part 2
(Please see my 10/23/10 entry for part 1.)
Here's where I talk about the miscellaneous things that rocked my world in 2010. A few notes before I begin:


Not all of these things made their debut in 2010, but that's when I first saw/played/watched/ate them.

I've already posted an extensive review of the game listed, so this one is less detailed. The month in parentheses indicates the month when it showed up in my media update, so if you want more information, please take a gander at the original review.

As always, your mileage may vary.

Finally, have a wonderful holiday!

---
Ordinarily I couldn't give less of a shit about shoes, but these Kobe Levi kicks, called Gumshoe and Miao respectively, are so freakin' awesome. The hell with wearing them; I'd put them in a Lucite cube and display them as art!
---
Thank Christ for the "reveal" at the end, or this commercial would still be haunting my dreams. I'm only helping!
---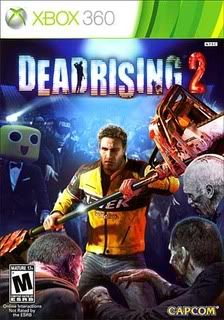 When motocross champion Chuck Greene is falsely accused of a zombie outbreak in the gambling mecca of Fortune City, he has to clear his name, find medicine for his infected daughter, and save as many people as he can. That's a lot for one man to handle, but Chuck is a total fuckin' badass and he's up to the challenge. Filled with gallons of gore, DIY weapons, humor, tens of thousands of zombies, crossdressing, lap dances, strip poker, and even some heart, DR2 managed to kick the original out of my top 10 video games of all time and take its place. And if that wasn't enough, the downloadable prequel Case Zero added over 20 hours of additional play time. Case West, the next DLC chapter, drops on December 27th. Best belated Christmas present ever! (October)
---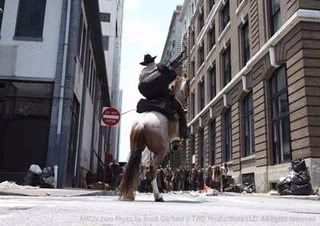 I've been a fan of
The Walking Dead
graphic novels for years, so I was pleased to hear that it was being adapted into a TV series. "Pleased" quickly morphed into "thrilled" when I found out that Frank Darabont (
The Shawshank Redemption
) would be involved. Fortunately, I wasn't disappointed. It's a potent mix of humor, gore, suspense, and heartbreak; even non-zombie aficionados, assuming they can handle the intense violence, will find much to admire here.
Side note: the opening sequence is fine, but these
fanmade credits
are much better.
---
"Fuck yo' couch, Mister President!"
---
In
Dead Set
, a five-part British miniseries, a zombie outbreak traps contestants inside the Big Brother house...adding new meaning to "elimination episode". Clever and grimly funny, but the accents are awfully thick, so be prepared to turn on your closed captioning if you're a Yank.
---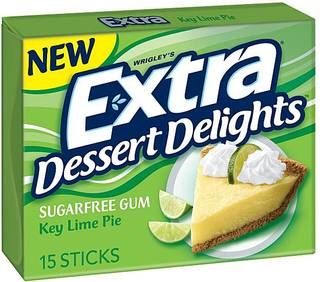 I love how the ads for this gum try to make you think it's just as good as eating a slice of key lime pie. Yeah, not so much, assholes...but I gotta give them credit, it's such a decent imitation that I think Willy Wonka had a hand in its creation. I swear there's even a graham cracker note in there. I fear that they'll pull it off the market, so I always stock up whenever I see it. They also have a strawberry shortcake flavor (tastes like regular strawberry gum to me) and a mint chocolate chip ice cream flavor (haven't tried it) if those are more to your taste.