media update: October
Asterisks denote something I particularly enjoyed or found especially worthy of my time; your mileage may vary.
---
FICTION
1.
The Ronin's Mistress
by Laura Joh Rowland: In 18th century Japan, a group of 47 ronin murders the shogun's master of ceremonies. The shogun's chief investigator, Sano Ichiro, is tasked with finding out whether the ronin were avenging their master or if less honorable motives were involved. Much heavier on the political intrigue than I normally like, but still a good read.
2.
Bedbugs
by Ben H. Winters: Susan thinks she's found her dream apartment in New York City, but after she and her family move in, it quickly becomes a nightmare. Susan's convinced that bedbugs are infesting the apartment, but for some reason nobody else can see them, and she begins to wonder if she's losing her mind. Guaranteed to make you itch.
3.
When She Woke
* by Hillary Jordan: In this dystopian novel (yes, another one!), prisoners have their skin genetically modified as a permanent "scarlet letter". Hannah Payne, convicted of murder for having an illegal abortion, is a Red. When she's released from prison, she's shunned by society, but she is determined to reunite with the man she loves. Occasionally a bit too preachy, and Hannah does something at one point that seemed completely out of character, but it's so compelling and disturbing that I didn't mind too much.
4.
Wormfood
by Jeff Jacobson: An almost unbearably gross novel about a small town infested with parasitic worms that eat their victims from the inside out.
5.
Damned
by Chuck Palahniuk: Speaking of gross novels, this one takes the maggot-filled cake. It's narrated by 13-year-old Madison, a rich teenager who wakes up in Hell after overdosing on marijuana. She befriends a group of other teenagers, and together they set out to confront Satan. But the demons who inhabit Hell and the disgusting landscape (mountains of toenail clippings, scalding vomit waterfalls, an ocean of semen) won't make the journey easy. Seriously, one scene that brings new meaning to the phrase "giving head" almost made me lose my lunch. Recommended for Palahniuk completionists only, because it's absolutely terrible.
6.
Choke Hold
* by Christa Faust: In this sequel to
Money Shot
, one of my ten favorite books of 2008, retired porn star Angel Dare has gone into witness protection. But her past catches up with her when a former costar, just before his murder, begs her to take care of his teenage son Cody. Angel must get Cody to his MMA audition in Las Vegas before it's too late. I freakin' loved this book, although it's considerably darker in tone than
Money Shot
, which is really saying something.
---
NONFICTION
1.
And the Heart Says Whatever
by Emily Gould: A series of essays about being young, single, and sad in New York City.
2.
The Art of Alice: Madness Returns
*: About two seconds after finishing the game, I hopped online to order this gorgeous artbook from Amazon. It was a worthy purchase, but it also made me kind of sad to look at all the amazing talent and effort that went into something that flopped so hard. (See also the
Sucker Punch
artbook.)
---
MANGA/GRAPHIC NOVELS
1.
My Girlfriend's A Geek
vol. 4 by Rize Shinba and Pentabu
2.
Butterflies, Flowers
* vol. 8 by Yuki Yoshihara: This is the final volume, which makes me sad because it's such a funny, sexy series. If you love shojo manga and don't mind some spice with your sweetness, you should really check this out.
3.
Seiho Boys' High School
vol. 8 by Kaneyoshi Izumi: This is also the final volume of this particular series, and I really wanted to give it a star, but I had
MAJOR
problems with a short story (unrelated to the main cast) at the end, as in seriously offended by aspects of the plot. Boo.
4.
20th Century Boys
* vols. 15-16 by Naoki Urasawa
5.
Missed Connections
* by Sophie Blackall
6.
Emitown
by Emi Lenox
7.
Arisa
vols. 3-4 by Natsumi Ando
8.
Avatar: The Last Airbender - The Lost Adventures
* (anthology)
9.
Sweet Tooth
by Jeff Lemire
10.
Yotsuba
* vol. 10 by Kiyohiko Azuma
---
MOVIES
1.
Bridesmaids
*: When Annie is chosen as her best friend's maid of honor, she struggles with jealousy and forms a rivalry with another bridesmaid whose unlimited wealth threatens to upstage her more modest efforts at celebrating the bride-to-be. Not only was this movie extremely funny, but it also had a very realistic take on female friendships. I absolutely loved it.
Side note: If you watch this on DVD, be sure to check out the deleted scenes and "line-o-rama", which are worth watching as well.
2.
The Warrior's Way
: After refusing to kill a baby girl who's the last surviving member of his enemy's clan, an assassin takes the baby and flees to a small town in the Old West. While there, he takes over a laundry business and falls in love with a circus knife thrower, but his enemies and hers come to town looking for trouble. A weird little movie, but it had its moments, and that baby is one of the cutest I've ever seen. Such an expressive face! I wanted to gently pinch her chubby little cheeks awwww.
3.
X-Men: First Class
*: In this X-Men prequel set in the 1960's, Professor X and Magneto, who were still friends at the time, join forces with other mutants to stop the Cuban missile crisis. Lots of fun, and although Patrick Stewart and Ian McKellen have some
VERY
big shoes to fill, I thought James McAvoy (ay papi!) and Michael Fassbender did an excellent job taking over their roles.
4.
Scream 4
: Sidney Prescott returns to her hometown of Woodsboro on a book tour, but much to her horror, Ghostface is back as well. More entertaining than I thought it would be, thanks to Wes Craven's directing and Kevin Williamson's sharp (er, no pun intended) script.
5.
Your Highness
: Prince Thadeous has spent his entire life being jealous of his older brother, the handsome and heroic Prince Fabious. When Fabious' fiancee Belladonna is kidnapped by an evil wizard, Thadeous reluctantly joins him in the quest to get Belladonna back. My expectations of this movie couldn't have been lower, since it was written and directed by the same people behind
Pineapple Express
, which I had to turn off halfway through because it was so awful. But this actually turned out to be pretty funny, and it gave me my new favorite euphemism for masturbating: "strumming my filthies."
6.
Mars Needs Moms
: When Milo's mother is abducted by aliens who want to extract her mothering skills, he goes to Mars on a mission to rescue her. The animation is gorgeous, but it had an anti-feminist message that really ticked me off (oh noes, if women are in power they'll banish men to the trash heaps and ruin everything!), and I think younger kids would be utterly traumatized by a couple of scenes.
7.
Bad Teacher
*: Cameron Diaz plays Elizabeth Halsey, a teacher who just cannot be bothered to give even the tiniest shit about her job. But when she finds out that the new substitute teacher (Justin Timberlake) has a rich family, she schemes to hook up with him so she can quit her job and finally get the fake tits she's been wanting. Very funny, although Jason Segel's role was woefully small.
8.
Red State
*: When three teenage boys answer an online ad from an older woman looking for sex, they fall afoul of a terrifying religious cult instead. Kevin Smith steps out of his raunchy comfort zone here, and it pays off in spades. It's an absolutely gripping thriller with Oscar-worthy performances by Michael Parks as the crazycakes preacher and John Goodman as an ATF agent.
9.
The Greatest Movie Ever Sold
: Morgan Spurlock brings his trademark style to this documentary about product placement in movies and TV shows. There's nothing too surprising here, but it's entertaining.
---
ADDED TO MY IPOD
1. "The Best It's Gonna Get" by Celldweller
2. "Terror Is Reality" by The Humble Brothers
3. "Halfway Dead" by The Humble Brothers
4. "Firewater" by Blue Stahli
5. "Switchback" (Detroit 2000 mix) by Celldweller
6. "Kill the Sound" by Celldweller and The Humble Brothers
7. "His Name's Frank" by Lifeseeker
---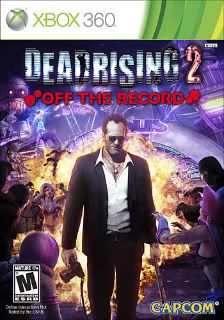 VIDEO GAME OF THE MONTH
Dead Rising 2 is one of my 10 favorite video games, and the original is awesome as well, so picking up Dead Rising 2: Off the Record was essential for maintaining my quality of life.
In DR2:OTR, intrepid photojournalist Frank West, the hero of the first game, replaces hunky motocross star Chuck Greene as the protagonist. Frank used to be kind of hot, but he's a bit the worse for wear since we last saw him; he's gained a paunch and a bad back, and he's slumming it by wrestling zombies in the Terror Is Reality arena for cash. But when somebody frees the zombies from their cages and turns gambling mecca Fortune City into a slaughterhouse, Frank leaps at the chance to snag the scoop of a lifetime.
Much of DR2:OTR is similar to its predecessor, but they've made some major changes to the storyline. They've also added a few new survivor rescue missions/psychopaths, a new theme park called Uranus Zone, and some new combo weapons. They've improved loading times, brought back Frank's ability to take photos of the carnage, allowed you to set your own waypoints (a
MUCH
appreciated feature), and added a sandbox mode where you can level up and play minigames. And now you get a warning if a survivor is too far away to follow you into a building or ventilation shaft. That was another much appreciated addition to the game, because it meant we didn't have to run back for them and then sit through yet another loading screen!
Other awesome things about this game: the voice acting is generally terrific, especially Patricia Drake as delusional diva Bibi Love, TJ Rotolo as Frank, and Darren Herbert as TK, the host of Terror Is Reality. Lifeseeker, the band that contributed the iconic "Gone Guru" to the first game, returns with an awesome tribute to Frank during the ending credits. Despite the gore, it's a really funny game; Frank has some great one liners. (I can't repeat any of them here because they're either spoilery or not funny out of context.) And the fun factor of plowing through thousands of zombies with weapons ranging from a lawnmower to a dildo cannon is through the roof.
The bad: occasional frame rate slowdown and a glitch that forced us to restart a nasty boss fight, which was especially frustrating because we were about halfway through it. Also, the $40 price tag seems a little high considering that it's just a reworking of the original DR2 for the most part.
If you're new to the Dead Rising universe, this isn't the one to start with; the story makes far more sense if you play the games in order. But if you've already played the first two and the DLC side stories Case Zero and Case West, then you're sure to enjoy this one as well. As my man Frank would say, it's fan-
TASTIC
!