Viva Las Vegas, pt. 2
I slept in until 10AM on Thursday, which was a glorious indulgence indeed. After a quick shower, I got dressed, coated myself in sunscreen, and walked over to the MGM Grand to meet up with Susan and Gunny. We drove to IHOP for a late breakfast and went from there to the
Neon Museum
. I'd always wanted to go to this place, so I jumped at the chance when Susan suggested it, and I'm glad we made the trip; it was really cool.
Not cool: like a freakin' ijit, I forgot to bring my digital camera with me. I had my cell phone with me, so I was still able to take pictures, but the quality isn't as good as I'd like. Better than nothing, though, so here goes! Some of the pictures have comments if you mouse over them.
---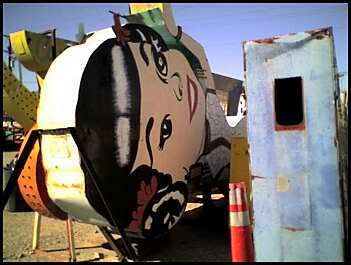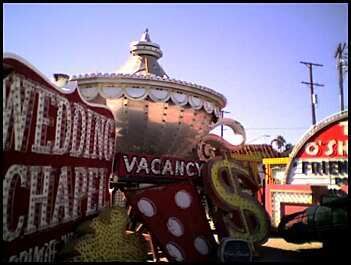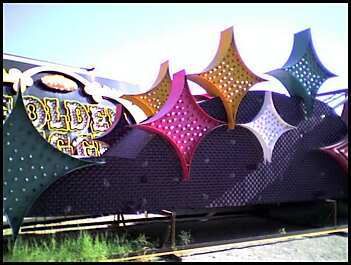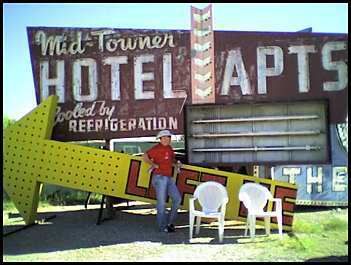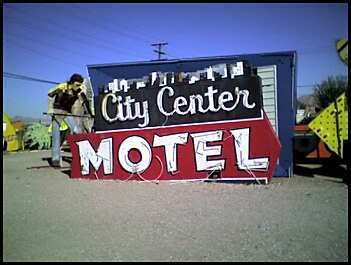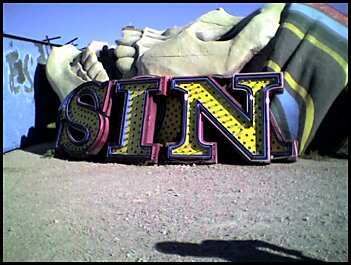 ---
After the museum, we went to Bonanza, which touts itself as the world's largest gift store. I bought postcards for G and my family, as well as a Blue Q tin box and a magnet that says "Put on your big girl panties and deal with it!" Then we stopped at the Wynn because I'd heard that they have a store that sells unusual beauty products
AND
has a café to boot. That turned out to be a bit misleading; the store didn't have anything you couldn't find in a reasonably well-stocked Sephora. But Susan and I, being perfume junkies, wore out our sniffers while Gunny stood patiently to the side. Then we got snacks in the café (a scrumptious, albeit incredibly messy to eat, pistachio macaroon for me) and headed to Caesar's for even more taste treats at Vosges. It turns out that they have samples of all the candy bars, so we eagerly accepted squares of the bacon chocolate and, on the count of three, popped them into our mouths.
Hmmm.
I don't really know how to describe the taste, other than to say that yes, there was definitely bacon in that there bar. It wasn't the orgasmic experience I'd hoped for, but it was certainly good, so I bought two of them, a sampler of miniature chocolate bars, and a scoop of wattleseed ice cream. According to Vosges' website, wattleseed is an aboriginal seed that tastes like chocolate, coffee, hazelnut, and vanilla all rolled up into one. Well, goddamn if that wasn't dead on; it really did taste like a combination of all those flavors. I thought the Naga flavor was better, but it was still a delicious way to end a hot day.
As we were driving back to the MGM Grand, Spock called to say that he'd had a horrific day at work and would be poor company, so he was bowing out of the evening's activities. We were bummed, but we bravely soldiered on. We had dinner at an all-you-can-eat Japanese joint called Todai, where I took this picture (posted with her permission) of Susan posing with their mascot.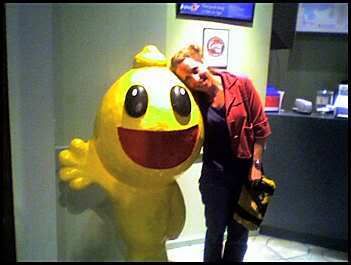 (We don't know what their mascot is supposed to be, but Susan said it looks like a lemon with a reservoir tip!)
After dinner, we stopped next door to price the dinner drag show at Lucky Cheng's, but it was too spendy. They also had a "Little Legends" show, featuring little people dressed up as celebrities, but that was too expensive as well. (Me: "If they're little people, shouldn't the ticket be half-price?") We laughed at the poster for a solid five minutes, though; no, not because they're little people, but because...well, see for yourself.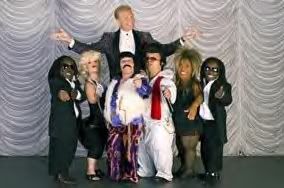 God, I love Vegas.
We went from Todai to Paris and rode the elevator to the observation deck of the "Eiffel Tower". Excellent timing, because we got up there just as the Bellagio fountain show was starting, and although there were some people in the way, we still had a great view. The lights on the Strip were gorgeous as well, and the balmy night air made me feel dreamy. Susan and Gunny walked me back to my hotel, where I stripped down and crashed.
To be continued…