media update: June
And how was your June? Mine was quite nice, thank you. Work was unusually slow, which led to some pretty long and boring days, but three wonderful things happened. First of all, the Raccoon officially retired, and you have no idea how magnificent it is to come in every morning and see her empty desk. She did come in for a visit last week, which set my teeth on edge because seriously, bitch? YOU JUST LEFT AND NOBODY MISSES YOU. Yeah, it was still better than seeing her 5 days a week, but it really pissed me off.
Secondly, my boss got transferred to a different division, and since she tended to be unreasonable and not a particularly pleasant person, I can't say as I was too freakin' sorry to see her go. (Neither was anyone else; when the official email went out, people were CHEERING. No, she wasn't around at the time.)
Best of all, my work bestie/next door neighbor J, who was planning on transferring to Arizona, changed her mind! She's the only person at work that I consider a friend, and our late afternoon bitchfests keep me sane, so I was ecstatic at this news.
Another nice thing that happened this month: G-Vo, C, C's lovely lady, and I saw a live taping of Conan O'Brien, which was fun. Jack White was the musical guest, and he SLAYED. Afterwards, we ate at the original Bob's Big Boy, which filled me with nostalgia since we used to eat at Bob's when I was a kid. I took a selfie with the Bob statue outside because I'm a dork.
Anyway, on to the media update! Asterisks denote something I particularly enjoyed or found especially worthy of my time; your mileage may vary.
FICTION
1.
Mr. Mercedes
* by Stephen King: Early one morning, hundreds of people are waiting for a job fair to open when a stolen Mercedes plows through the crowd, killing eight people. The driver escapes and ditches the car, leaving behind a clown mask that's been washed with bleach to destroy evidence. The crime still haunts retired detective Bill Hodges, so when he receives a taunting letter from Mr. Mercedes, he's determined to stop him before he kills again...and time is of the essence, because Mr. Mercedes has plans to mount a terrorist attack that could wipe out thousands of people. One of King's scariest novels, because the events in this book could actually happen. I thought the ending was a bit of a letdown, but other than that,
Mr. Mercedes
is really good.
2.
Young God
* by Katherine Faw Morris: Nikki is a 13-year-old girl who is determined to keep her family's drug trade profitable. The prose is sparse (some pages only have one sentence on them) and it can be pretty disturbing, but it's an excellent debut that reads like
Winter's Bone
written by Dorothy Allison.
3.
Graduation Day
by Joelle Charbonneau: This is the final volume in a trilogy, so I can't review it properly lest I spoil the previous books. It was aight.
4.
The Girl with All the Gifts
* by M.R. Carey: Melanie is a young girl who lives on an army base. She is only removed from her cell to attend class. Why? Well, the less you know about this book going in, the better. I'll just say that it's excellent, and if you don't trust my judgment, trust Joss Whedon's blurb on the back. ("As fresh as it is terrifying...It left me sighing with envious joy...a jewel.")
NONFICTION
1.
Carsick
by John Waters: The notorious filmmaker decided to hitchhike from Baltimore to San Francisco. The first two sections of this book are his fantasies about the best and worst possible scenarios, and the final section tells us what really happened on his journey. For the most part, I thought the fantasy sections were a little too weird and/or gross for my tastes, but I did enjoy the real stuff.
2.
Insatiable
by Asa Akira: The porn star tells all in this explicit memoir. I had never heard of her (and no, I'm not playing coy; I would tell you if I had) but saw this at the library and was intrigued. It's a pretty good look behind the scenes of the adult entertainment industry.
MANGA/GRAPHIC NOVELS
1.
Over Easy
by Mimi Pond
2.
Kamisama Kiss
vol. 15 by Julietta Suzuki
3.
This One Summer
* by Jillian Tamaki and Mariko Tamaki
4.
Sex Criminals*
by Matt Fraction and Chip Zdarsky: This graphic novel about people who can stop time when they have an orgasm is pretty goddamn good and you should read it. One of my favorite things about it is the little details in the background, like a poster in a porn store that shows a woman staring forlornly at the camera. The title of the movie is
Not the Life That I Anticipated, But Here I Am I Guess
.
5.
The Undertaking of Lily Chen
by Danica Novgorodoff
MOVIES
1.
I, Frankenstein
: I, stupid for watching this pile of shit.
2.
Paranormal Activity: The Marked Ones
: Jesse is intrigued by his downstairs neighbor, who is rumored to be a witch. After her death, Jesse begins to investigate, but he unleashes something evil in the process. Like all of the
PA
movies, it's not particularly scary (I don't count jump scares), but it's well done and I enjoyed it.
3.
Her
*: Theodore (Joaquin Phoenix) is a lonely man in the process of divorcing his childhood sweetheart. One day he purchases an operating system (think Siri, only much more advanced), which names itself Samantha, and he quickly falls in love with her. It sounds like a comedy, but although it has some funny moments, it's most certainly not. Rather, it's a strangely moving look at how our dependence on technology can prevent us from forming bonds with real people. Very deserving of its Oscar for best original screenplay, and highly recommended.
4.
Son of Batman
: In this animated flick, Batman learns that he's the father of a young son named Damian. When the boy's mother, Talia Al'Ghul, asks Batman to train Damian, he reluctantly agrees. Decent story and animation, but the voice acting is surprisingly flat.
5.
Jack Ryan: Shadow Recruit
: CIA analyst Jack Ryan discovers a Russian plot to destroy the US economy. Takes a while to get going, but it has some fun action, and Chris Pine is quite pleasant to look at.
6.
Three Days to Kill
: A CIA agent (Kevin Costner) wants to retire, but after he's diagnosed with an inoperable brain tumor, he's offered the chance to receive an experimental drug...if he's willing to take on one last case. It's decent enough, though nothing special.
7.
The Monuments Men
: A group of museum curators and architects are tasked with recovering priceless stolen artwork before the Nazis can destroy them. It's an intriguing (and true!) story, and you can't beat the cast, but it had a really strange tone to it. As G-Vo mentioned, it gets practically
Hogan's Heroes
-esque at times, and then you'll see a barrel full of gold fillings taken from dead Jews or a soldier dying. I wish the tone had been a bit more consistent.
8.
Lone Survivor
*: When a mission to capture a Taliban leader goes horribly awry, a group of Navy SEALS struggles to survive. The title is a spoiler, but considering that it's based on a true story, I'll give it a pass on that. It's very intense, and I appreciated the fact that they honored the people who died that day by showing their photos at the end of the movie.
9.
Knights of Badassdom
: A group of LARPers accidentally conjures a real succubus in this horror comedy. It's packed with geek favorites like Peter Dinklage, Summer Glau, and Ryan Kwanten, and it has a few fun moments/lines, but mostly it's just really stupid. Probably better with the addition of alcohol or your favorite, ahem, herbal remedies.
ADDED TO MY IPOD
1. "Lost Cause" by Beck
2. "Shy Guy" by Diana King
3. "Fell in Love with a Girl" by the White Stripes
4. "Soramimi Cake" by Oranges & Lemons
VIDEO GAME OF THE MONTH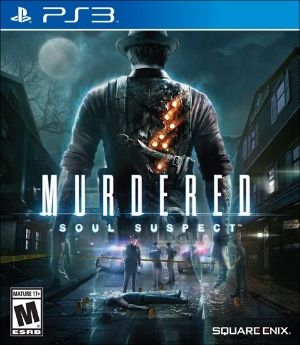 Massachusetts police detective Ronan O'Connor is not having a great day on the job. He's in hot pursuit of the Bell Killer, the serial killer terrorizing Salem, and just as he has the killer cornered, the killer tosses him out a window. Not content to leave things to chance, the Bell Killer saunters downstairs and finishes Ronan off with seven shots to the chest. You'd think that would be the end of it, but thanks to the supernatural forces in Salem, Ronan becomes a ghost. And the spirit of his dead wife Julia tells him that he can't join her on the other side unless he ties up a few loose ends first. Determined to be with Julia forever, Ronan teams up with a psychic teenage girl named Joy to bring the Bell Killer to justice.
During the course of the game, you search for clues, possess people to read their minds or influence them to act a certain way, and take control of cats (yay!) to access tight areas. Dementor-like demons roam around and will kill you all over again (this time permanently) if you don't sneak up on them and take them down first. You can help other spirits find peace by solving their problems or collect artifacts to hear ghost stories revolving around them, though none of the stories were really worth the trouble.
M:SS got terrible reviews, but honestly, it's not bad. The story takes some interesting turns, and Ronan and Joy have a fun (if occasionally prickly) camaraderie. The graphics aren't particularly great, but the atmosphere is suitably creepy. It's a pretty short game that should only take about 10 hours to complete (maybe 12 if you want to find all of the artifacts and notes), so if you like action adventure games, it's worth renting.