fashion advice needed
Even though I read all the major fashion magazines, I have zero fashion sense myself. If it's not black, I don't know what to do with it.
(no comments from the peanut gallery, plz)
Anyway, I've been pondering what to wear for my dad's wedding, even though it's not until May 2012. I think I've decided on this: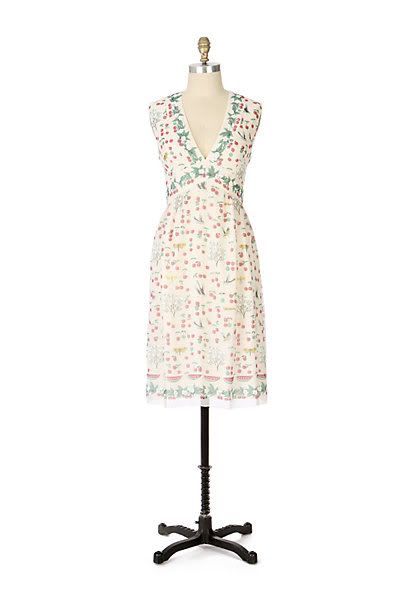 It's my finest fashion find: a silk Anna Sui dress. A couple of years ago, I was browsing Anthropologie's website and saw this dress listed for an insane amount of money; I think it was $400, but I'm not sure. I thought it was gorgeous, but I wasn't willing to shell out that kind of money.
Well, turns out I didn't have to, because a few months later, it was listed on the sale page. They had one size left---mine!---and it was mine for a mere $80. I snapped that shit up, and when it arrived, I immediately tried it on. I was afraid it wouldn't fit properly, but it seriously looked like it had been made for me. I was in looooooove.
I've only worn it once, with black high heeled mary janes, but it looked really clunky and too 1994 Courtney Love kinderwhore.
So here are my questions for those of you who have more fashion sense than me, i.e. every sighted individual on this site:
1. Is this dress appropriate for a beach wedding?
2. What the frickin' hell kind of shoes do I wear with it? Heels, flats? Color? (I should point out that the dress is a very light yellow, though it doesn't look that way in this picture. The print is of birds, flowers, and cherries. Also, it's a little too low cut, so I would wear it with a lacy camisole underneath so people are looking at the bride and not the groom's daughter's enormous cans.)
I mean, it might not even fit properly anymore, because I've gained a few pounds since I bought it. But if I wind up needing to get another dress, I'll probably beg for y'alls help again.
Heeeeeeeeeeeeeeeeeeeeeeeeeeeeeelp.
(And because I can't get too girly without breaking out in a sweat, I'll post my favorite video games of the year later on.)